Bolflex's focus on recycled and vegan materials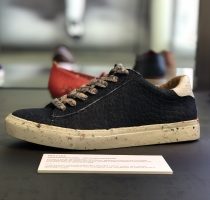 The Portuguese-based company specialized in footwear components has just launched into the market new vegan and recycled products. Currently, the company's business model is based on three keywords: reduce, reuse and recycle
By keeping these environmental concerns in mind, Bolflex has developed a number of innovative products, such as new soles made out of recycled materials, with 70% recycled rubber. The rationale behind the launch of these product is the idea of re-using rubber waste from the production of soles and also to recycle rubber incorporated in soles.
In order to do so, Bolflex has developed recycling techniques and is now prepared to recycle used shoes, thus creating materials that can be used in the production of new soles, which results in a circular economy model applied inside the doors of the company, contributing to the reduction of costs and contributing to a more eco-friendly future. In this process, all the rubber used by the company in their manufacturing process is produced internally.
"This innovation in de-vulcanization of shoes used to make new products such as new shoes and insoles, is already patented by Bolflex", commented António Ferreira, President of the Bolflex group. From here one can witness the focus on this strategy.
But the company's strategy is not only focused on the rubber. For example, the aluminium is reused for the production of new moulds. Bolflex also has a mould casting system that allows the reutilization of the moulds for the production of new units for injection of soles.
Vegan line
Another focus of the company is its Vegan line. The Portuguese brand has been certified as a vegan brand by animal rights organization People for the Ethical Treatment of Animals (commonly known as PETA). The company thus provides a set of soles and other materials to the upper part of the shoes without any product of animal origin. Derived from this concept, Mara Ferreira, daughter of the group's President, has just launched a new brand of Vegan and customizable bags, currently marketed online: My Cute Pooch – more information available on the brand's website.
A look at the history of the company
The project was initiated in 1992 by the current General Manager and Founder António Ferreira. Bolflex started with four rubber pressing machines and six employees, producing soles for a single customer. Nowadays, it produces roughly 1 000 pairs per day and it became one of the most relevant producers in Europe, with 140 employees. Bolflex has an installed capacity to produce about 20 000 pairs per day. They work with some of the most important footwear and fashion brands throughout Europe and have standalone facilities for Design, Product Development, Prototyping, Samples and Mold Making, thus enabling them to be one of the most effective suppliers of footwear, fast competitive. The secret to this sucess? Since its inception, Bolflex's key words have been Innovation and Investment.